※The mnemonic phrase is the only way to restore the wallet. Before using your wallet, make sure that your mnemonic phrase has been backed up properly and safe, unless you are sure that your mnemonic phrase and the private key have been well preserved and verified, otherwise you must never uninstall the wallet! Do not record it on any electronic devices, nor any network channel or spread it through the Internet, and do not disclose the mnemonic phrase to others under any circumstances.
※Please perform a small transfer test before sending a large amount of asset
※Bitpie will not ask for mnemonics from users for any reason under any circumstances, and all those who ask for mnemonics are scammers. Also, please do not send the private key or mnemonic phrase to the staff, so as to avoid losing assets..
Step 1: Open the official Oasis wallet https://wallet.oasisprotocol.org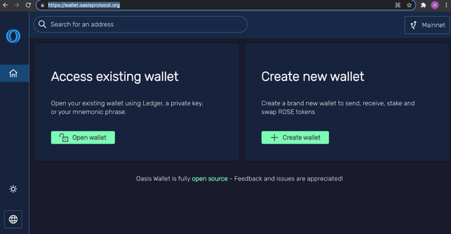 Step 2: Click Open Wallet and choose Private key
Step 3: Open Bitpie, switch to Rose system, click Receive, enter the page and click the upper right corner to select "View Private Key", and copy the private key for backup